It's getting close to that time of year again when you have to find the perfect gift ideas for your girlfriend. The witches come out to frighten you and ghosts of ex-girlfriends' past haunt your every waking moment.
I'm not referring to Halloween, when all you have to do is give her a little candy and you'll get lucky in superhero costumes. I'm talking about the time when you have to go above and beyond that adorable three scoop kitty tee. (Although, maybe not the worst idea if you're on a budget).
Your girlfriend will go crazy if you take it a step further, like with this three scoops of kitty blanket that says warmth, love and kittens all in one: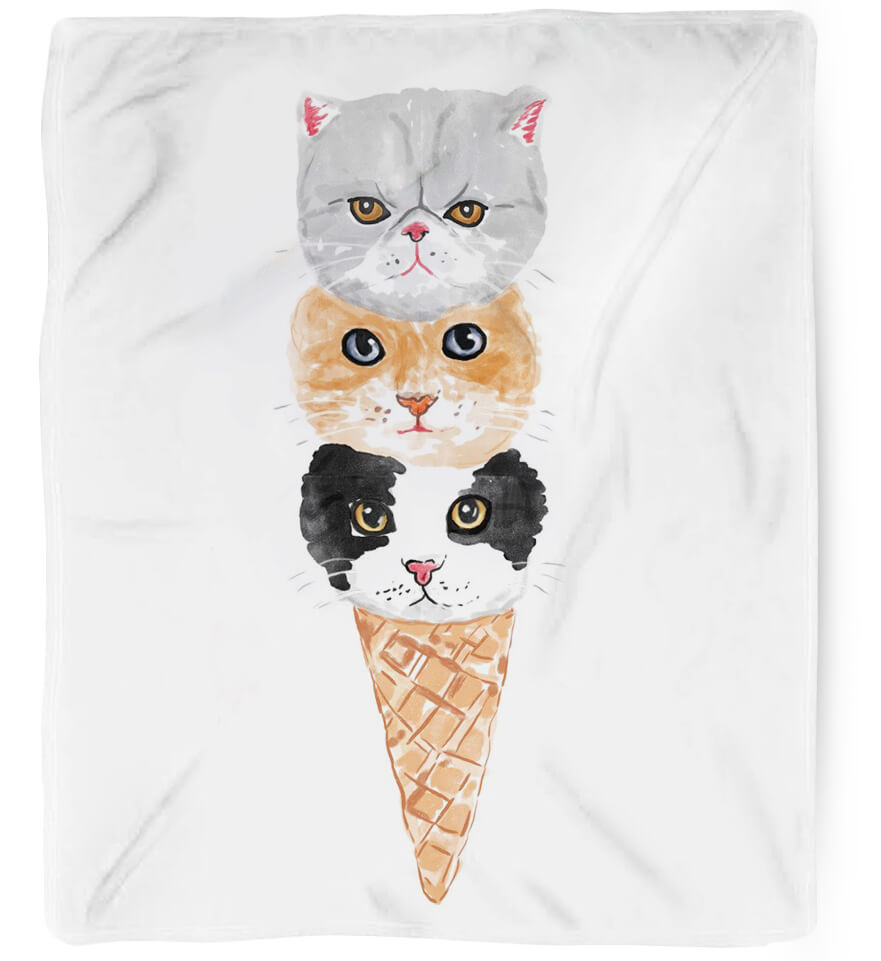 kitty cone blanket gift for girlfriend
Getting incredible Christmas gifts for your girlfriend is easy!
When it comes to her 21st Birthday, Valentine's Day, Christmas or Hanukkah the stakes are high. Sure these moments are meant to be a time of love and giving, but they could just as easily turn into scary moments if you decide to throw a pair of socks and a Family Guy-themed desk calendar her way.
Don't worry, lagifty is here to help with your gift-giving worries. This list is perfect for Christmas gifts for your girlfriend and good birthday gift ideas. Why? Because we went directly to the source. Your girlfriend !
Thoughtful Photo Album or Frame
Need a stellar Christmas gift idea for your girlfriend? Find the latest photos of you and your girlfriend from Instagram and Facebook and *gasp* print them. Then go to a local crafts store and buy an album or create your own.
The simple Forever Photo Album will do. An album that predicts what your kids will look like may be taking it a bit far…If you want to get sentimental but keep it simple, go with a Kate Spade picture frame for your favorite couple pose.
"I like sentimental things, so if he was able to put something together like a photo album or scrapbook that is meaningful to our relationship that would be so cute." -Chelsea Tirrell, Senior, Hofstra University
"My favorite gift was a scrapbook of photos of us that he made for me. It meant a lot to me because took the time to pick the pictures and sat down to think about all our great memories. I love that I can look back on the book for years to come." -Olivia Jenning, Junior, Florida State University
Did you know that "receiving gifts" is in fact a love language?
The effort and thoughtfulness behind a gift for your girlfriend means more than the gift itself. That means pouring time and love into gift ideas for your girlfriend, whether it be for a holiday, your girlfriend's birthday, anniversary or just because.
Not sure where to start? Narrow down that gift for your girlfriend by investigating beyond the obvious:
Ask your girlfriend's best friends.
Consider her hobbies. Find something that will make that hobby more fun, exciting or easy
Search GroupOn for an experience she'll love, like skydiving, a hot air balloon ride or a paint night.
Buy her a luxurious experience—like a spa day or weekend away—to let her finally indulge.
Find something uniquely her. For example, if she loves owls, buy her owl mugs or cute owl tee.
No matter what you come up with, make sure your gift idea for your girlfriend comes wrapped with a thoughtful hand-written card.
The card's message will show her you really care. Gift giving is a language. Become fluent in it like Jack from This Is Us and your girlfriend will melt into your arms forever.
Shadow Box
Some sentimental S.O.s have discovered a cheat code to buying gifts for your girlfriend. When you've bought almost everything else on the list for your girlfriend, buy her a gift to hold all of the other gifts. Wait—what?
"Being that we've been together so long, my boyfriend has gotten me a bunch of gifts for holidays, anniversaries, etc. But I'd say my all-time favorite would be tickets to a concert. He surprised me with tickets to my favorite band and we had AMAZING seats," University of Central Florida junior Siera Siedl said.
Siera's boyfriend can't recreate that concert experience. But he can commemorate it with a shadow box filled with the tickets, movie stubs from their first date, bottle caps, you name it, as reminders of all their best dates.
Basketball players honor great seasons by retiring their jerseys and displaying them on the wall; great baes honor their girlfriends by retiring mementos and displaying them in a shadow box. Talk about a creative gift for your girlfriend.
Promise Ring with Birthstones
One up your childhood pinky promise with a ring finger promise. Some might shy away from PDA like kissing and holding hands to show off your commitment to one another. Bling your girl out with the message instead.
"My boyfriend gave me a promise ring for our one year anniversary and it was just the most beautiful thing I had ever seen. It had our birth stones connected. It was just so beautiful and meaningful," University of Florida junior Hannah Wilson said.
Personalizing the ring will show your girlfriend how much thought you put into the promise ring. Plus the ring will represent you and your girlfriend equally minus any cringe-worthy matching outfits.
"My boyfriend gave me this beautiful pink floral ring from Pandora. He said it was our promise ring so it has a lot of sentimental value to it, which is what I love most about it," said Stacey Rodriguez, sophomore at Palm Beach Community College.
Desk Decs
Make sure your girlfriend thinks of you during her 9 to 5 to match your 24/7. Buying her a beautiful small item to place where she'll see it the most like her desk at home or at work. In the early stages of a relationship, the desk dec will quickly trigger thoughts of you without needing to bombard her Snapchat.
For maximum results, get a gift for your girlfriend that show her you care through trinkets that you know—cue Julie Andrews—a few of her favorite things.
"I really like trees even more then flowers and I used to always wear this tree necklace. One time my boyfriend surprised me by leaving a little metal tree in my room with a note," Temple University junior Claudia Murtha said.
"To me, it doesn't matter how much the gift is or what it is just the fact that he thought of me is what matters the most and that's what makes the best gifts that I could ever receive."
A Manicure
Dive into your girlfriend's mid-week sanctuary. No matter how hectic a woman's life gets, someone massaging, lotioning, grooming and painting pretty colors on her hands will make her feel 10 times—or 20 times if she also gets a pedicure—better.
"I'm on a college student budget, so I tend to give myself my own manicures, but I've always wanted my S.O. to pay for one for me as a gift," Florida State University sophomore Kate Reitz said. If you can afford it, pick up the tab on your girl's trip.
If you have the time, hop in the chair next to her and treat her to a freshly manicured partner on the side. If these options don't work, skip plan C and go right to plan D…IY gift for your girlfriend. Pick up all the pro tools for your girlfriend to use at home.